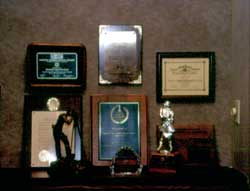 McNely Construction Company has garnered praise from peers and clients over the past several years. Following are some of these awards:
Top 20 East Bay Commercial Contractors
East Bay Business Times, 2004
Partners in Preservation Award (First Unitarian Church)
Oakland Heritage Alliance
National Concrete Masonry Association
Chrysanthemum Award for Design Excellence
St John Vianney, Walnut Creek
American Public Works Association Award of Merit
Seismic Retrofit of Mill Valley City Hall
Mill Valley City Council Resolution
Outstanding Performance, Mill Valley City Hall Seismic Upgrade
New United Motor Manufacturing, Inc. (NUMMI)
Excellent Support of Construction Safety Program
Associated General Contractors of California
Constructor Award – Contribution to the Community,
Veterans Administration Outpatient Clinic Project, Oakland, CA
Shelter Against Violent Environments
Recognition & Appreciation for Contribution to Renovation of Shelter Facility
Fremont, CA
Business Person of the Year, Claire Koenig
San Leandro Chamber of Commerce, December 2004
Associated General Contractors of California
S.I.R. Award presented to Warren McNely. This award is normally reserved for public officials who have provided valuable services or support to the construction industry. It was awarded to Warren McNely after completion of his term of service on the Contractors' State License Board. Warren is the only contractor ever awarded this prestigious honor.